Overview
Insight
Free v/s Pro
Update Logs
AccessPress Mag is an amazingly flexible & modern free magazine theme for WordPress. It is fully-responsive and Searches Engine Optimized WordPress theme perfect for online magazines, news websites, editorial related projects, blogs or personal websites.
It is a cutting-edge & ideal solution for bloggers, SEO specialists, designers and journalist who want to lay strong online presence with fascinating site and content. Its feature includes: 2 post layout, author block, large featured images for page/post, social media integration for wider social reach. For more grab and control over your theme
Features of the theme
Check out all the features of AccessPress Mag right here!
Newspaper, magazine, and blog
AccessPress Mag is the perfect theme for the most powerful Newspaper, magazine or blog site.
Multiple layouts
Boxed and full-width home page, several page layout with/without sidebars.
A full magazine home page
A fully modern magazine home page layout.
Post view comments count
Post view count, comments count
Beautiful article page
A stunningly beautiful article page with image, image caption, video, title, subtitles.
Ads section
Put in your banner ads or images
Translation panel right inside theme option
Easy all-in-one translation page right inside theme options.
Author box
Standard and beautifully designed author box below the article
Social media integrated
Social counter, social share and social icons - all integrated
Beautiful commenting system
Single and nested beautiful and user-friendly commenting system
Submit news - guest blogging/Guest posting
Option to post news by guests
Blog
A separate blog layout
Cool slider
The cool slider of featured posts
Twitter feeds
Recent twitter feeds
Several block content
Latest posts/Random posts/ Editor's pick
Responsive Design
Fully responsive on all devices
Cross browser compatible
Tested in all major browsers
SEO friendly
Fully SEO friendly URLs, breadcrumbs
Theme Options Panel
Easy to use theme option panel, configure your theme easily
Post/Archive template
Various templates for post, archives
Custom Featured Post
Feature your content on the home page
Sidebar Options
Place sidebars on left, right and without sidebar
Custom logo/ favicon
Upload logo, favicon right from the theme options panel
CSS3 Animations
Cool and smooth CSS3 animations
Breadcrumb setting
Show/hide the entire website, Show/hide the only single page, home link option, etc
Footer setting
Show/hide footer widget area, Options to choose the style of the footer widget
Translation Ready
Translate the theme into any language you need
WooCommerce compatible
Want a shop? Add WooCommerce!
bbPress compatible
Want a forum? Add bbPress!
RTL support
RTL support needed? We've it!
Dedicated forum support
Any questions? Post on the support forum
Online chat support
Never seen before? But yes it's true! We are on chat!
Youtube tutorials
You'll get youtube video tutorials to configure/use the theme!
Easy and detailed documentation
You'll get detailed documentation to configure/use the theme!
Also, check out,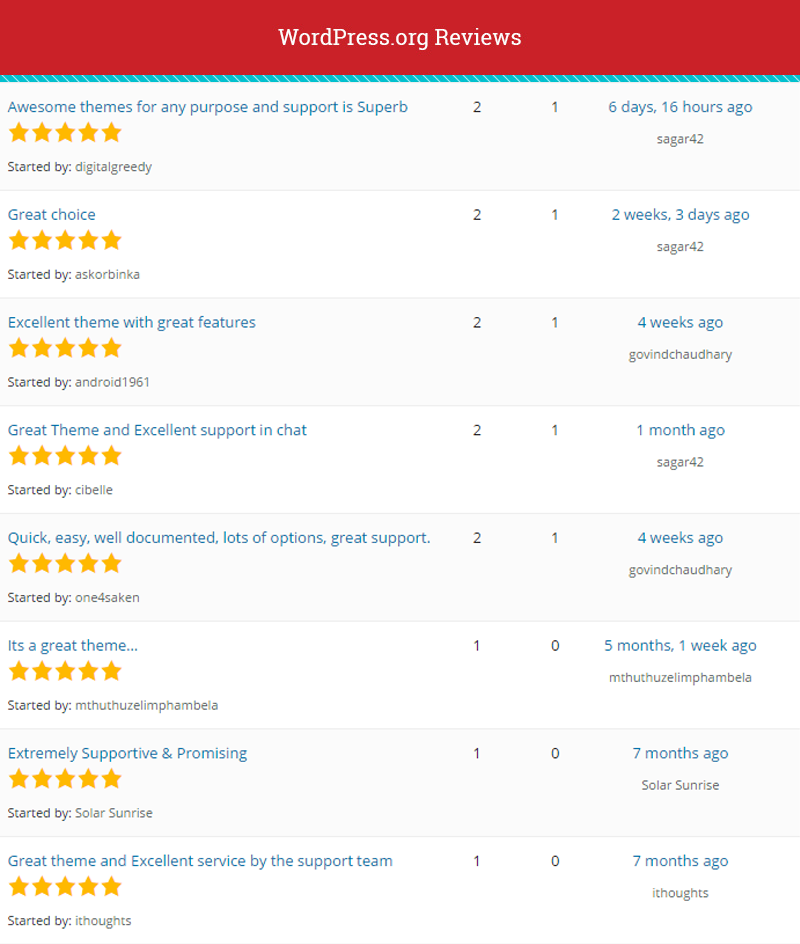 AccessPress Mag

Free

Regular updates
Amazing support
Upgrades available

AccessPress Mag Pro

$55

Regular updates
Amazing support
Upgrades available

Built on Theme Options

Easy to use with user friendly guides on using the option panel.

YES
YES

Header Layouts

Choose any one header layout from available 3 header layouts

1
4

Full Width/Box Width Layout

Find options for your website, boxed or full-width layout.

YES
YES

Translation Ready

Translate the theme into any language you want.

YES
YES

Multiple Color Scheme

Choose any theme skin color you like.

NO
YES

Preloader Option

Set the preloader option for lazy loading effects in the site.

NO
YES

Breadcrumb Option

Keep track of locations within site.

NO
YES

Slider Layout

Choose anyone slider layout from the available 4 slider layouts.

2
4

Home Page Layout

Choose anyone home page layout from the available two home page layouts.

1
2

Popular Block Section

Display popular posts under Popular Block section with eye catchy design.

NO
YES

Single Post Layouts

Choose anyone layout for the single post from the rich set of 5 available unique layout designs.

2
5

Archive Page Layout

Choose anyone layout for the archive page from the available 3 archive layouts.

2
3

Advanced Typography Options

Change the fonts settings for the entire site.

NO
YES

Inbuilt Shortcodes

Build feature rich pages using beautiful inbuilt shortcodes.

0
13

Inbuilt Widgets

Use the beautiful ease to use widgets in sidebars or pages using your favorite page builder plugin.

3
10

Fully WooCommerce Compatible

Yes - Stop your WooCommerce theme search here

YES
YES
Version 2.4.6


 	Added Welcome Page
        Added Support for Editor Style

Version 2.4.5

 	Fixed the search bugs at header and widget area

Version 2.4.4


 	Removed the plugin slug from tgmpa function which doesn't exist

Version 2.4.3


 	Fixed rtl css at mobile device
 	Fixed the function about excerpt value at archive page 
 	Updated .pot file

Version 2.4.2


 	Fixed the bugs on excerpt length
 	Fixed the minor css bugs
 	Tested on WordPress v4.6 and updated .pot file

---
Version 2.4.1


 	Fixed the Highlighted section slider in responsive
 	Fixed the minor bugs in homepage sidebar

---
Version 2.4.0


 	Fixed the slider bugs in ipad
 	Fixed prefix issue for functions/variable/class name
 	Changed the date function at header

---
Version 2.3.9


 	Fixed the bugs on homepage sidebar
 	Fixed minor css bugs

---
Version 2.3.8


 	Removed woocommerce template and files
 	Fixed woocommerce pages by using hook and filter

---
Version 2.3.7


 	Fixed woo-commerce archive page and its single page
 	Fixed shop page in 3 columns and 12 products
 	Added more themes section

---
Version 2.3.6


 	Fixed top menu section functionality
 	Fully compatible woocommerce color
 	Fixed template version of woocommerce

---
Version 2.3.5


 	Fixed sidebar widget bug

---
Version 2.3.4


 	Fixed homepage widget bugs
 	Compatible with WordPress version 4.5

---
Version 2.3.3


 	Fixed header tag for widgets

---
Version 2.3.2


 	Fixed shop widget at woo-commerce archive and single pages

---
Version 2.3.1


 	Fixed default index file settings for posts

---
Version 2.3.0


 	Fixed slider and highlighted section bugs in firefox browser

---
Version 2.2.9


 	Fixed padding between slider and highlighted section
 	Changed screenshot

---
Version 2.2.8


 	Fixed slider caption bacground color
 	Managed position for search and random icon at mobile device
 	Removed top menu wrapper from mobile device

---
Version 2.2.7


 	Added new features of highlighted section beside slider section

---
Version 2.2.6


 	Fixed some layout design for RTL support

---
Version 2.2.5


 	Updated woocommerce template
 	Refine and removed unused/comment codes
 	Fixed css for header ad section

---
Version 2.2.4


 	Fixed bugs at archive page
 	Fixed multiple textdomain issue
 	Removed unused code in widgets-fields page
 	Updated language .pot file

---
Version 2.2.3


 	Fixed Theme Option layout accordint to updated WordPress version 4.4
 	Fixed bugs in widget filed file
 	Fixed layout comment box layout

---
Version 2.2.2


 	RTL ready bugs are fixed

---
Version 2.2.1


 	Added additional css for RTL ready

---
Version 2.2


 	Added option to show/hide homepage slider

---
Version 2.1.9


 	Added dropdown option in latest and random post widget to show post count.

---
Version 2.1.8


 	Added custom css field in theme option panel
 	Used get_template_part function palce of require
 	Updated pot file
 	Changed theme uri at style.css

---
Version 2.1.7


 	Added slider pause option
 	Removed unused function codes
 	Suggested New plugins via TGM Activation

---
Version 2.1.6


 	Fixed slider design in ipad device.
 	Fixed sidebar and layout bug for existing Posts.

---
Version 2.1.5


 	Added lightbox features for gallery images.

---
Version 2.1.4


 	Fixed small bugs and removed post layout update function

---
Version 2.1.3


 	Translation .pot file updated
 	Make AccessPress Instagram Feed plugin compatible and mention in TGMPA
 	Removed Postviews function for posts(suggest by theme reviewer)
 	Updated version of TGM Class

---
Version 2.1.1


 	Added Current date at top header section.
 	Complied translation fields

---
Version 2.1.0


 	Fixed about setting of archive template and remove unused file.
 	Added function to change post template layout if condition meet.

---
Version 2.0.9


 	Added features of random post at primary menu section.
 	Fixed bugs listed by our theme users

---
Version 2.0.8


 	Added sticky menu behaviour for only primay menu
 	Fixed design bugs in news ticker content area
 	Updated mo file for language translate

---
Version 2.0.7


 	Display full post of slider in mobile device
 	Fixed bugs about page sidebar for old posts

---
Version 2.0.6


 	Added news ticker option
 	Added few animation at home page banner

---
Version 2.0.5


 	Fixed design of slider in ipad screen
 	Transfer some option from theme option panel to customizer
 	Fixed bugs in widget section

---
Version 1.1.8


 	Fixed bugs
 	Worked on responsive design

---
Version 1.1.3


 	Theme Released

---
View latest version of: AccessPress Mag LITE
AccessPress Mag
Price: Free
Availability Instant Download
Price Includes All The Taxes
Secure Checkout