Overview
Insight
Free v/s Pro
Update Logs
Free WordPress Multipurpose Theme - The Monday
The Monday is an elegant responsive free business WordPress theme for any type of business or freelancers. It is feature-rich, multi-purpose and powerful WordPress theme with a beautiful and user-friendly design. It offers a complete customization capability and multiple options for building a website instantly.
It features the customizer tool, homepage options, multiple header and footer styles, archive and blog page options, complete color and typography settings etc.
Features of the theme - 
Customizer Based
Cool Customizer tool allows you to customize the theme complete with a live preview and build an awesome website quickly. Preview every design, settings, changes as you build.
Various Sections at Home Page
Build an extensive home page with various useful sections in it. Easily configure the sections right from the customizer tool and cool WordPress plugins recommended by its makers.
Multiple Header Types for Home Page
Design your site's home page header the way you like, choosing from multiple styles available:
Slider, Image or No header (only menu).
Header Image Options for Inner Pages
Configure the inner page header with a beautiful relevant image. It also allows you to disable header style in the pages (only menu).
Menu Style
Monday offers options for designing your website menu. It offers you sticky menu options and also options to enable/disable single page menu.
Separate Blog Page
Spread the words of your good job or business through a separate blog page in your site. Monday makes it easy with a beautifully designed ready to use blog page.
Breadcrumbs Options
Help your website users and search engine bots easily navigate around your website with easy to use breadcrumb options.
Archive Pages with Sidebar Option
Options for placing a sidebar in the left or right side of the archive page. It also lets you remove sidebar from the archive page and display the page content full-width or at the center.
Excerpt Length for Archive Page
Customize the length of excerpts for all the archive pages. Better manage your archive pages and give your readers a quick summary of your content.
Simple Typography
Simple typography options for making your website content look clean and elegant. Customize the typography easy and simple.
Footer Section Options
Place different elements in the footer section and customize it with easy to use options. Beautifully organize footer section with contact details, Google maps, social buzz etc.
Complete Color Customization
Choose a very decent and beautiful color for almost every section of your website. Super easy way and options to customize the complete website with your favorite color.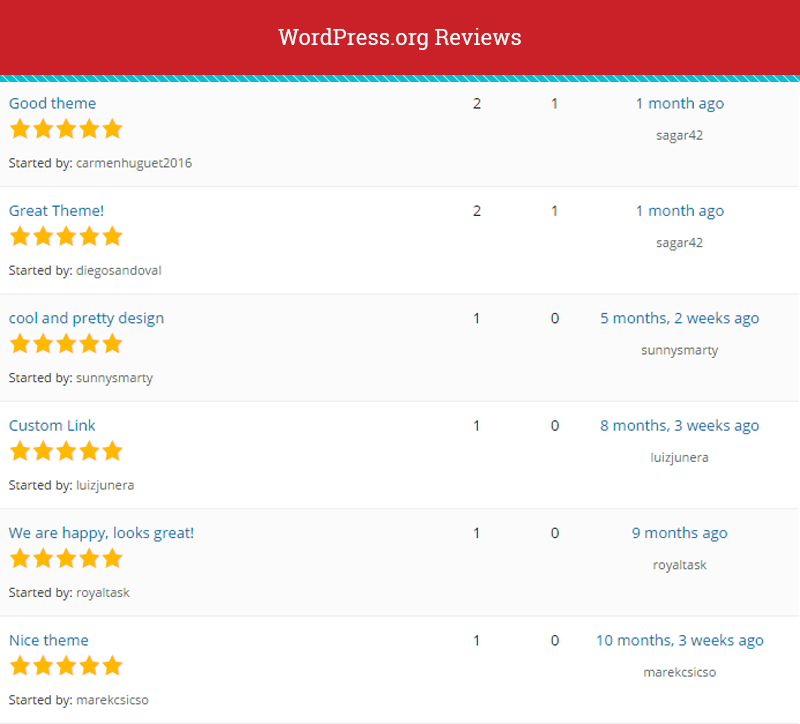 Free

Regular updates
Amazing support
Upgrades available

$51

Regular updates
Amazing support
Upgrades available

Demo Import

Tired of configuring site from scratch. Installation of demo is just one click away.

NO
YES

Home Section Reorder

Configure the Home Section in any order you like.

NO
YES

Advanced Typography Options

Change the fonts settings for the entire site.

NO
YES

Header Layout

Choose any one layout from the available three header layouts.

1
3

Inbuilt Shortcodes

Build feature rich pages using beautiful inbuilt shortcodes.

0
13

Header Type

Choose any one layout from the available three header layouts.

3
4

Progressbar section

Display Progressbar section in home page.

No
Yes

Template Color

Select template color for the site from unlimited template color option

No
Yes

Blog Page Layout

Choose any one layout from the available two layouts for the blog/archive pages.

1
2

Countdown Page

Display Countdown page if you are looking for temporarily disabling the website for maintenance or any other purposes.

No
Yes

Inbuilt Shortcode

Create a feature rich pages using the inbuilt easy to use shortcodes.

0
13

Built on Customizer

Preview your changes as you build your site.

YES
YES

Responsive Design

Displays fine in device with different screen sizes.

YES
YES

Translation Ready

Translate the theme into any language you want.

YES
YES

Background Feature

Set the Background Color/Image for each section in home page.

YES
YES
YES
YES

Fully WooCommerce Compatible

Yes - Stop your WooCommerce theme search here

YES
YES
YES
YES
Version 1.3.2


 	Updated Fontawesome Fonts
        Minor Bug Fixes
        Updated Light Slider

Version 1.3.1

 	Minor Bug Fixes.

---
Version 1.3.0

 	Add Custom Editor Style Support.
        Added Welcome page with the demo import functionality.

---
Version 1.2.9


 	Fixed the escaping on required items
 	Removed unused functions
 	Updated .pot file

---
Version 1.2.8


 	Fixed the bugs
 	Changed the order of theme info.

---
Version 1.2.7


 	Added new customizer controls for range slider
 	Modify the theme info links
 	Removed unused files and functions
        Updated .pot file
        Minor bug fix ( functions and css )

---
Version 1.2.6


 	Fixed the homepage section wrapper while not active
 	Fixed the header image issue on large screen
 	Fixed minor css

---
Version 1.2.5


 	Fixed the bugs at archive and single page post meta
 	Removed the unused templates
 	Updated the .pot file

---
Version 1.2.4


 	Fixed the bugs on function enqueue

---
Version 1.2.3


 	Fixed the function/class/variable prefixing issue
 	Removed unused extended classes.
 	Fixed the preview option for footer section.

---
Version 1.2.2


 	Fixed the preview option in customizer section.

---
Version 1.2.1


 	Minor changes in customizer banner
 	Updated .pot file
 	Removed unused files
 	Fixed bugs of homepage header section

---
Version 1.2.0


 	Fixed innerpages header option
 	Fixed the portfolio link

---
Version 1.1.9


 	Fixed the bugs at header image section

---
Version 1.1.8


 	Fixed bugs on menu section at innerpages
 	Changed archive layout
 	Added some functionality for excerpt content

---
Version 1.1.7


 	Fixed menu bugs
 	Removed unsued functions code

---
Version 1.1.6


 	Fixed bugs at single page menu
 	Compatible/Tested with WordPress 4.5

---
Version 1.1.5


 	Fixed typography issue
 	Fixed menu align
 	Added option ho hide and change home tab as required

---
Version 1.1.4


 	Fixed postmesage part at customizer section
 	Fixed price table icon

---
Version 1.1.3


 	Added some description option for several section at customizer
 	Removed background image option for latest blog
 	Removed 4th and 5th skill option

---
Version 1.1.2


 	Fixed some css bugs
 	Changed screenshot

---
Version 1.1.1


 	Updated Homepage layout
 	Changed on backend settings

---
Version 1.1.0


 	Fixed CTA widget upload button on customizer
 	Fixed CTA widget bugs while fields are blank

---
Version 1.0.9


 	Added primary and secondary color option at customizer
 	Fixed some css bugs

---
Version 1.0.8


 	Moved bxSlider to lightslider deu to some more features
 	Changed h1 tag to h4 for widget title
 	Fixed breadcrumbs location at custom post type page
 	Changed screenshot image

---
Version 1.0.7


 	Fixed dynamic header and body font with size and color
 	Fixed child menu design
 	Changed screenshot

---
Version 1.0.6


 	Removed pointer cursor from unused section
 	Removed unused code from style.php

---
Version 1.0.5


 	Fixed header slider animation and js settings

---
Version 1.0.4


 	Changed header_image section title and add inside general settings panel
 	Fixed bug on blog timeline css

---
Version 1.0.3


 	Removed few unused settings from customizer section
 	Fixed slider section
 	Fixed responsive bugs
 	Fixed archive and innper pages sidebars and layout
 	Fixed double text-domain issue

---
Version 1.0.2


 	Get theme live

The Monday
Price: Free
Availability Instant Download
Price Includes All The Taxes
Secure Checkout