Free WordPress Social Login Plugin: AccessPress Social Login Lite – Documentation
Documentation of AccessPress Social Login Lite Plugin
Installation
Unzip accesspress-social-login-lite.zip
Upload all the files to the /wp-content/plugins/accesspress-social-login-lite
Activate the plugin through the 'Plugins' menu in WordPress.
For customizing the plugin's settings, click on AccessPress Social Login lite menu in WordPress of left admin menu.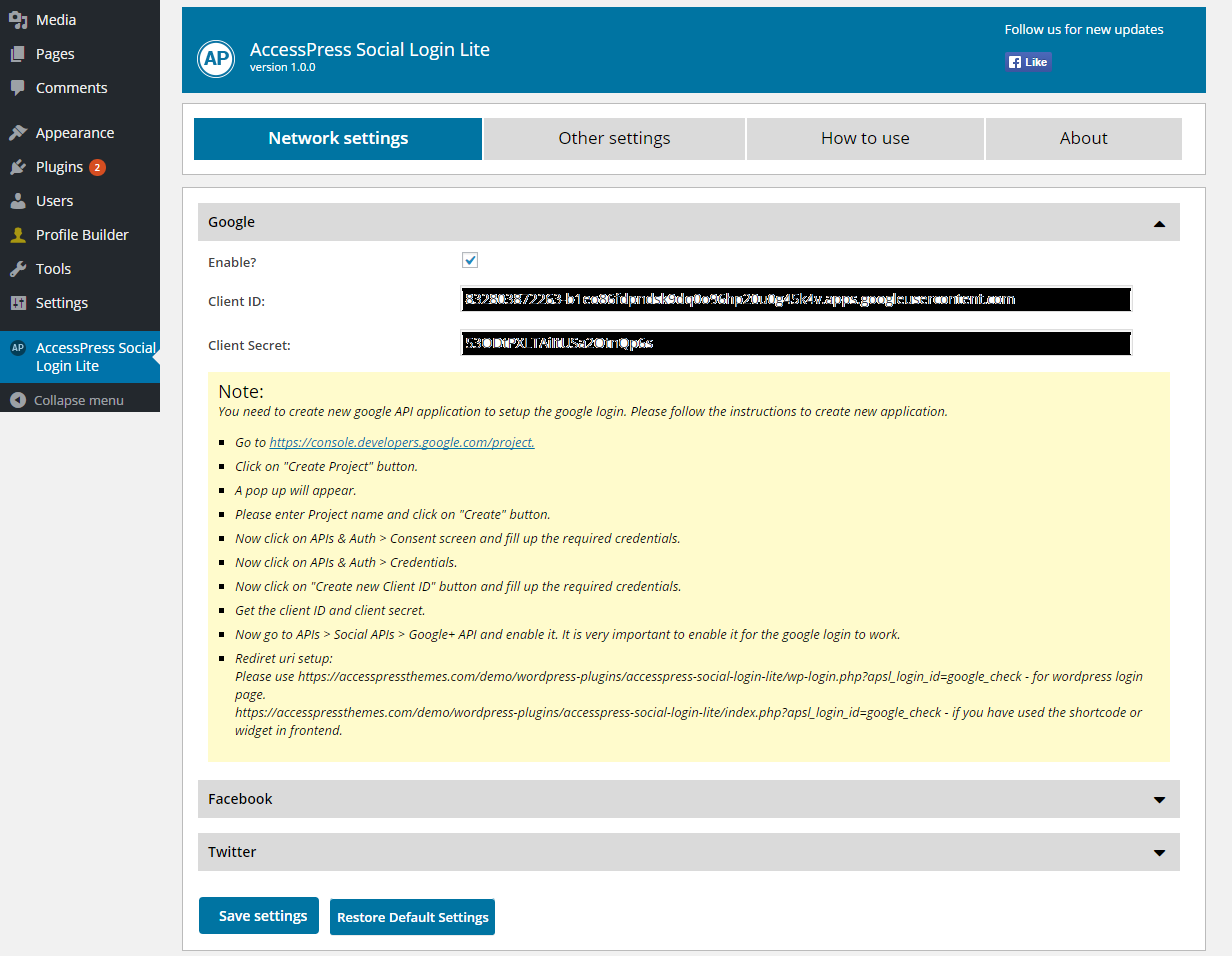 Network Settings
In this tab you can enable and disable the available social medias as per your need.
Also you can order the apperance of the social media's simply by drag and drop.
For each social media you need to configure following
Enable/Disable: You can enable and disable the social media.
App ID: App id of the social media.
App secret: App secret of the social media.
To get the App ID and App Secret please follow the instructions(notes).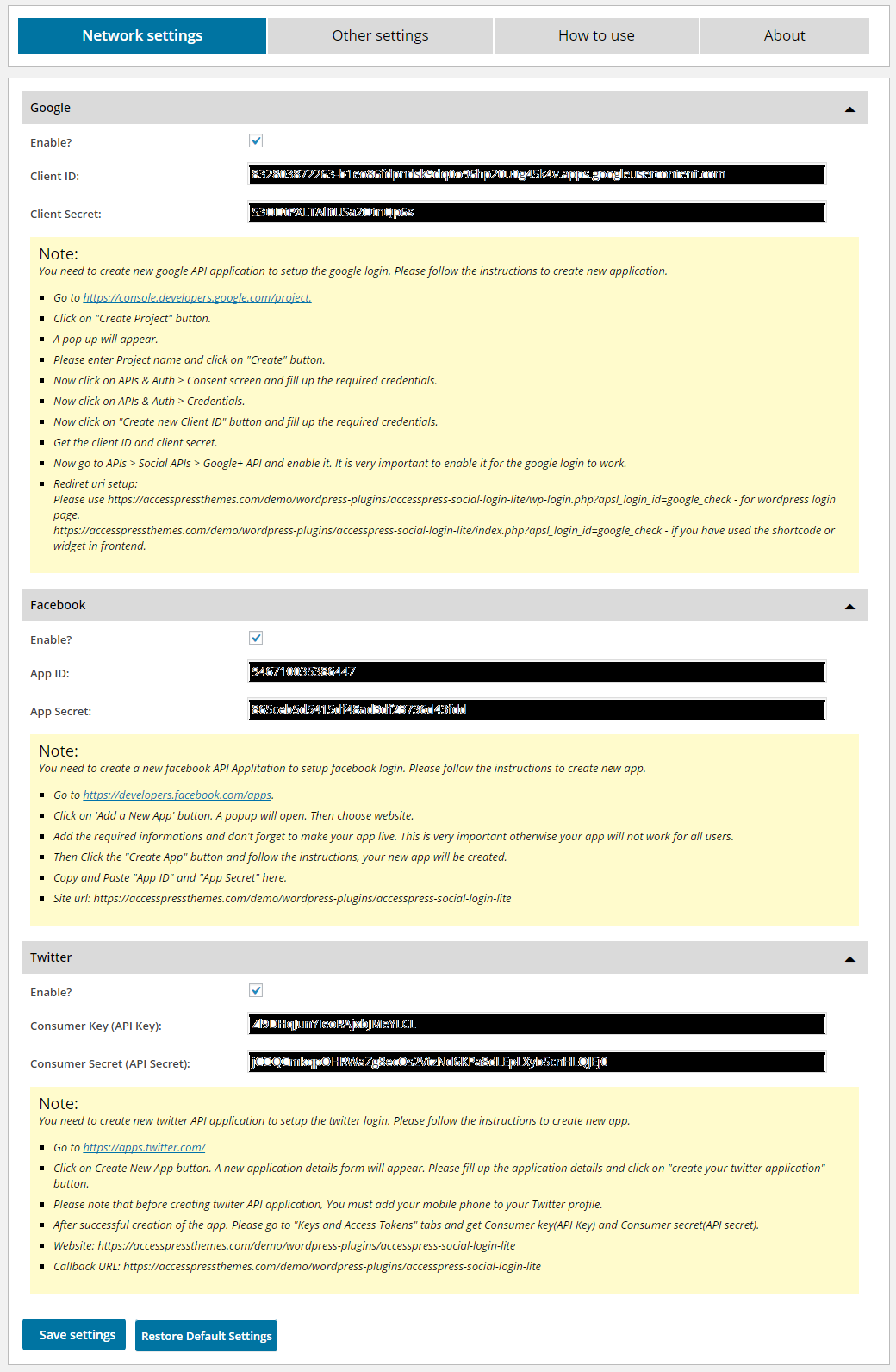 Other Settings
In this tab you can do various settings of a plugin.
Enable or disable the social login.
Options to enable the social logins for login form, registration form and in comments.
Options to choose the pre available themes, You can choose any one theme from the pre available 4 themes.
Login text: Here you can setup the login text as per your need.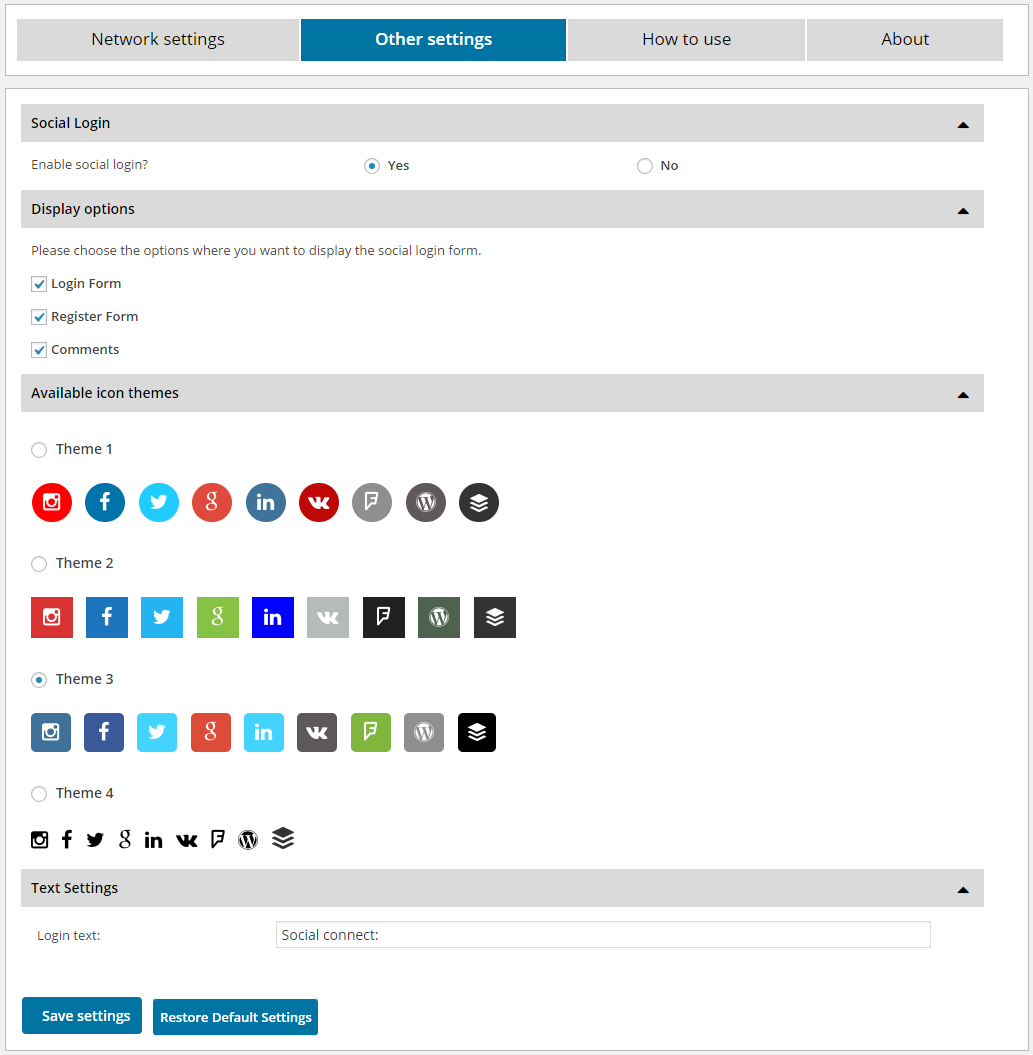 Widgets
When you install the plugin, you will find a widget named "AccessPress Social Login Lite" in the widget section, You can place these widgets in any widget area and can configure as per your needs. Since the widget has the multi instance, you can add the same widget as much as you want.
Widget Attributes
| Attribute | Description |
| --- | --- |
| Title | You can set the name of the widget. |
| Login text | You can add your own custom login text here. |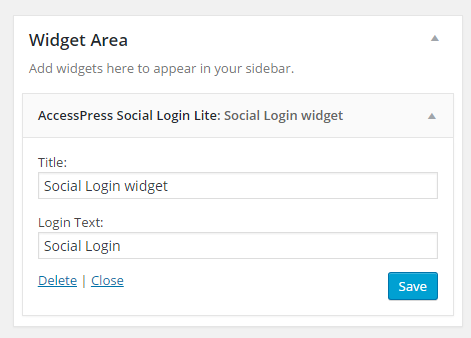 Shortcode
Use the shortcode [apsl-login-lite] to display the social login within your content in posts and pages.
Use the function <?php echo do_shortcode('[apsl-login-lite]'); ?>
to display within template or theme files.
Available Attributes
| Attribute | Description |
| --- | --- |
| login_text | You can use the custom login text for the shortcodes using this attribute. |
Example
[apsl-login-lite login_text='Social Connect']
Documentation of AccessPress Social Login Lite Plugin