WordPress Social Share (Facebook Share, Twitter Share) Plugin: AccessPress Social Share – Documentation
Documentation of AccessPress Social Share Plugin
Installing Instructions
Unzip accesspress-social-share.zip
Upload all the files to the /wp-content/plugins/accesspress-social-share
Activate the plugin through the 'Plugins' menu in WordPress.
For customizing the plugin's settings, click on AccessPress Social Share menu in WordPress of left admin menu.
How to use
Once the plugin is installed and activated you will find a menu named "AccessPress Social Share" in the left menu bar of the admin menu. Once you click on that menu, you will go to the plugin's main settings page.
There are 4 main settings tabs from which you can configure all the plugin settings as per your requirements.
Social Networks
From Social Networks tab, you can configure the social media you want to display and can sort the orders of selected social medias.
Share Options
From Share options tab, you can configure the options for display of the social share icons. You can show the social shares in posts, pages, archive and categories.

Display Settings
From Display Settings tab, you can configure the apperance of the social share icons.
Display Positions
You can choose an options where you want to display the social share. There are three options available:

Below Content
Above Content
Both(Below Content and Above Content)

Social Icons Sets
You can select any one of the available 5 predefined themes of social icons you want to use for display of the social icons in frontend. Simply you can choose which theme you want to use. No more configurations required!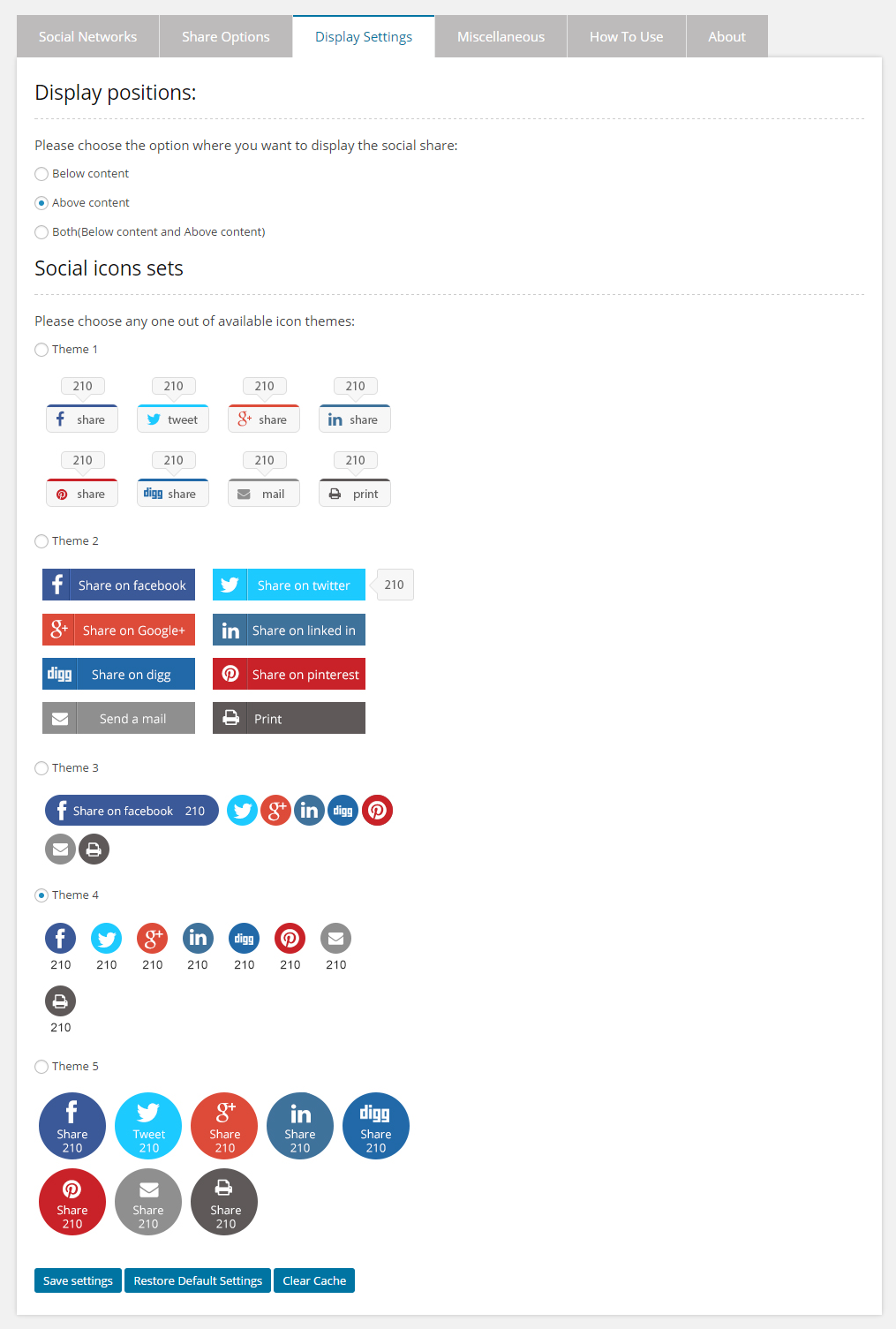 Miscellaneous Settings
From Miscellaneous Settings tab, you can configure the other settings of plugins
Twitter Username
You can set the name of the twitter username for sharing the tweets.
Share Counter
You can enable/disable the share counter for social shares.
Cache Settings
you can set a cache period to avoid frequent API calls for share counts.
Email Settings
you can setup the email settings for email header and email body as per your need.
Shortcode
You can use shortcode for the display of the social share in the contents. Optionally You can enter the name of the networks you want to display. The networks will be displayed in the order of entered networks.
Example 1: [apss-share]
Example 2: [apss-share networks='facebook, twitter, pinterest']
network parameters are: facebook, twitter, google-plus, pinterest, linkedin, digg, email, print
If you've any questions, please submit a ticket in our support system: